The surprise proposal: the wrong finger size....no surprise!
24th August 2018
Today I would like to explain what happens when the design of the proposal ring is right but the finger size is not. We definitely do not resize a brand new ring, we remake it.
Design, draft & deliver
There are many articles on this website that explain how I design a ring with the customer and then make a draft, usually in sterling silver, to confirm that design. Once everything is correct I make the actual ring...but that of course rules out a surprise.
For the surprise proposal the design is created by the gifting partner and I then make the draft in the intended materials of the actual ring and it is used for the proposal. This is a proposal ring I made a couple of weeks ago.
This couple is from the UK and they are in Australia on a working holiday. The initials of their first names are formed in the shoulder of the ring. To mark the fact that the proposal was made in Australia some Australian Champagne diamonds were also set into the side.
Here is a video of the proposal. Notice how big it is when you can see it on her hand. He got the finger size wrong, no surprise :)
We do not resize a brand new ring
Even when the design is loved by the recipient if the size is wrong the ring gets remade. You can read more about why in this article.
Hannah & Max came in and we modified the proposal ring to the correct size. You can see in the next photo that it was not possible to make the ring round in the size required without deforming the top of the ring.
We could damage the ring by trying to force the top into a circle or we could join the ring up and leave it oval. That would mean any round wedding ring put next to it would not match.
Remaking the ring
With the main diamond removed I soldered the ring closed and then forced it round in order to determine the true correct size of the ring.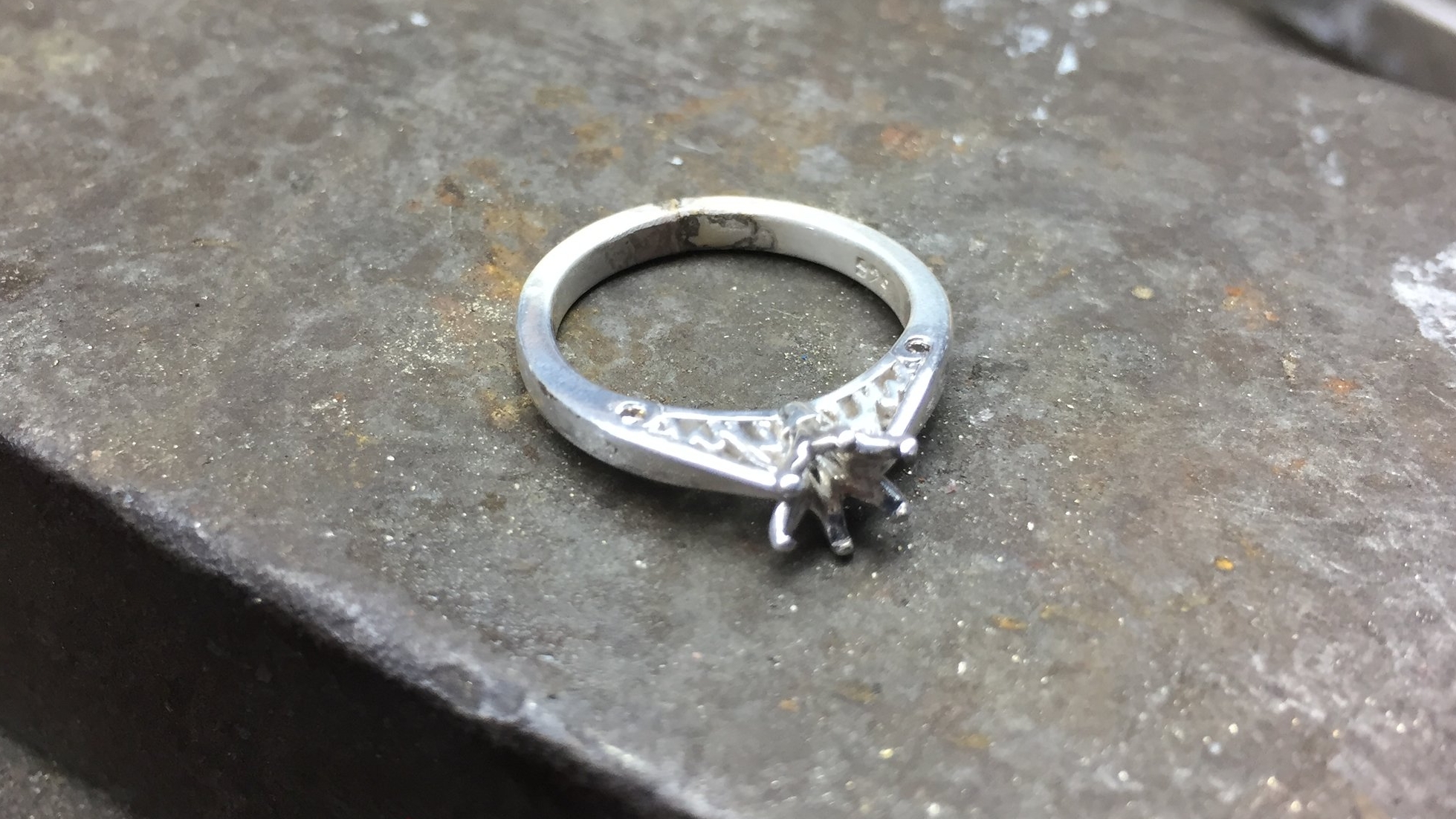 Destroy the ring not the gems
In order to remove the Champagne diamonds from the band without putting any stress on them I destroyed the ring. Often it is extremely difficult to remove a gem and reset it back into the same setting. From my experience most people seem to think gems can be easily removed and replaced.
With all the diamonds removed I next set about making the ring to the correct finger size and then reset the gems into it.
Congratulations to Hannah and Max and thank you for allowing me to share your engagement with everyone.