The devil is in the lack of detail!
March 17th 2013
Ever looked at the details of a diamond ring and wondered what it all means?
The starting point
Cheryl came to me for a quote on a diamond ring design she had seen in one of the jewellery chains. After viewing a photo of the design the first thing I asked her was "Do you know the diamond details?". This is the information that the jewellery chain supplied to Cheryl:
Diamond Colour: H-I-J
Clarity: I1-I2
Total carat weight: 1.00-1.18
Diamond colour
With the diamond colour they are stating that the diamonds in the ring fall between the three diamond colour grades of H to J. H is near colourless whilst J is one grade above faint yellow. The diamonds either do not match or they do not know what grade they are.
Diamond clarity
Next we have the diamond clarity which they state are either I1 or I2. I1 diamonds have flaws difficult to see with the unaided eye whilst the flaws in I2 diamonds are easily visible with the unaided eye. I do not recommend either of these clarity grades to my customers and cannot remember ever making a piece of jewellery with them.
Diamond weight
Finally we have the total carat weight. They give a weight range that varies 18%.
The lack of specific details in the description of the diamonds, the main "value" in the ring, is all too common with the jewellery chains.
Give the customer some knowledge
What I did next was explain to Cheryl the basics of diamond colour and clarity. She selected F colour and Si1 clarity as grades she desired in her diamonds. F colour diamonds are colourless and Si1 clarity diamonds have flaws that are not visible to the unaided eye but are visible under 10x magnification.
Now with the design and diamonds decided I gave Cheryl a quote for the ringusing diamonds that "all" matched in colour and clarity and that came to a specific total carat weight. Cheryl accepted the quote and decided to look at customising the design a little.
Customising the design
She wanted to set diamonds into the side of the setting and also to add a nice taper in the sizes of the diamonds in the top of the ring. I did up a graphic showing the style of setting for the side diamonds and once both the design and updated quote were accepted I made a silver draft. Silver draft approved and we moved straight on to making the actual ring.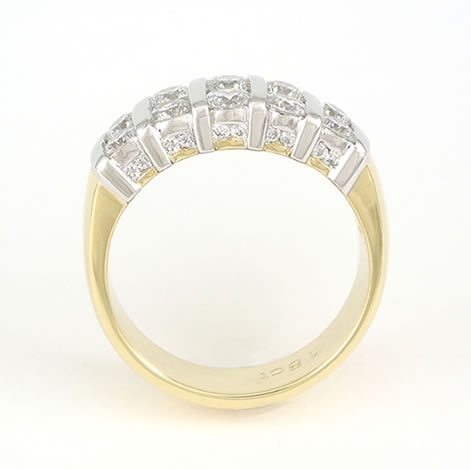 The ring band was made in 18ct yellow gold and the diamond setting in 18ct palladium white gold. As we discussed before all the diamonds were F colour and Si1 clarity with a total diamond weight of 1.31 carats. Cheryl understood exactly what she was purchasing and was also able to turn a standard design into one of her own.